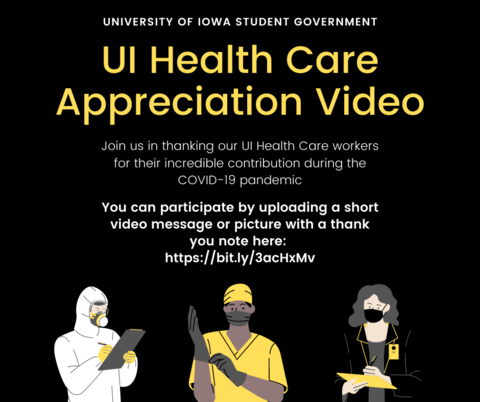 On behalf of the University of Iowa Student Government (UISG) and International Student Advisory Board (ISAB), we would like to invite you to join us in thanking the UI Health Care workers for their dedication and hard work throughout the COVID-19 pandemic. Since the beginning of the pandemic, UI Health Care staff have been heroically serving our community and we would like to thank them on behalf of the Hawkeye community.

We are creating a video montage of students sharing their appreciation for the health care workers. Please consider recording a short video message of thanks or write down a thank you note/sign and take a picture holding it.

Please upload your video or picture here: https://tinyurl.com/UIHCappreciation. The deadline for submission is Sunday, April 4.

The maximum length of your video should be 15 seconds. You can include family members or friends in the video as well. For your reference, here is an example of an appreciation video recording: https://bit.ly/3aeIF20. If you need assistance, please email gpsg@uiowa.edu and we can help walk you through the process.

Let's show our immense gratitude for health care workers on the frontlines of the pandemic!

Thanks in advance for your participation!