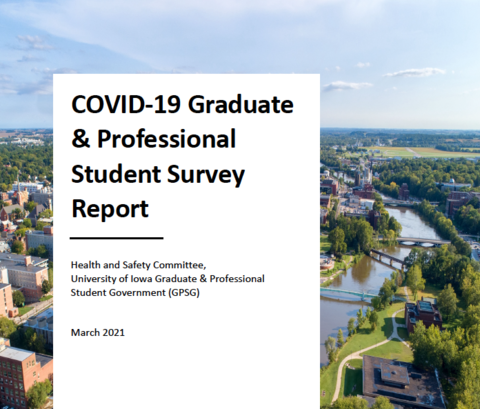 The "COVID-19 Graduate and Professional Student Survey Report," compiled by the GPSG Health & Safety Committee, shares and analyzes the responses from more than 800 University of Iowa graduate and professional students. View the full report here. 
Survey Purpose 
The COVID-19 pandemic has majorly reshaped our lives over the past year. The purpose of this survey is to document the experiences and concerns related to COVID-19 along with other topics amongst graduate and professional students at the University of Iowa.
Methodology 
To conduct the survey, a multidisciplinary 'Data Team' comprised of graduate student researchers was assembled by the GPSG Health and Safety Committee. Utilizing our skillset to serve the graduate and professional student community during the pandemic was a key motivational factor behind assembling the data team.
The survey was conducted when graduate and professional students were experiencing not only the COVID-19 pandemic but also political unrest, racial justice issues, and discriminatory policies against international students. The survey attempted to capture existing disparities and the mood of the students in respect to all these issues.
This report is comprised of data from the survey that GPSG administered to graduate and professional students through a campus-wide email as well as through social media outlets from November 10, 2020 to November 27, 2020.
Of the 8,043 graduate and professional students who received the survey questionnaire, a total of 890 responded to the survey. After cleaning the data for non-responses and excluding those with less than 15% information, there was a total of 838 students in the final sample, resulting in a response rate of 10.42%. The methodology followed to conduct the survey and to prepare this report are available in (Appendix 1: Survey Methodology) of this document. Demographic analysis of the sample is provided on Page 7, followed by detailed analysis of the survey data.
What's in the report?
The report describes the key findings related to:
- Student Well-Being
- Resources and Support Needed
- Perceptions of Institutional Response
- Compliance with Public Health Measures
- Additional Feedback
 The survey data is reported for all graduate students as well as disaggregated at times to examine differences in experiences by race and gender.